Lim misses out on first win after tough qualifying run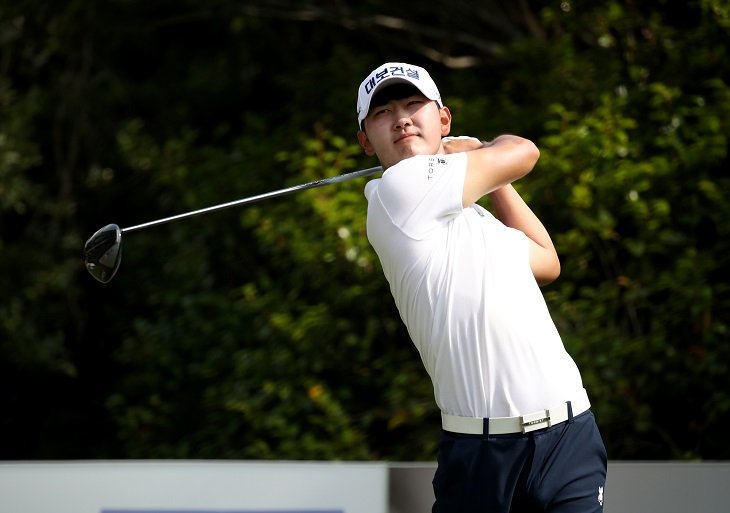 Go Gun-taek (24-photo) has become the first Korean to win twice on the Korean Professional Golf Association (KPGA) Korean Tour this season. Ko won his first title in three years on the tour at the DB Insurance PromiOpen in April, the season opener, and now he's added another victory in three months.
Ko added 13 points with eight birdies and three bogeys in the final four rounds of the KPGA Tour Honors K-Solago CC Hanjangsang Invitational at the par-72 Solago Country Club in Taean, Chungcheongnam-do on Wednesday. The tournament was played on a modified Stableford format, where players are ranked based on their combined scores, with albatrosses worth 8 points, eagles worth 5 points, birdies worth 2 points, pars worth 0 points, bogeys worth -1 point and double bogeys worth -3 points. With a final score of 44, Ko forced a playoff with Lim (25), who had the same score.
Both players birdied the 18th hole (par-5) in the first overtime to force a second overtime. Lim missed the birdie putt and Ko sank it, ending a long battle. Ko took home 100 million won for his victory. "After my first win, I didn't play well, but I'm happy to get my first two wins this season," said Ko. "Now that I have two wins, I'll work harder for three."
Lim, who entered the tournament through Monday's qualifying rounds, missed out on his first victory since his debut, but made a name for himself among fans with his unexpected performance. Lim, who made his Korean Tour debut in 2017, had competed in 41 tournaments before this one, 토토사이트 with a tie for 40th being his best result.