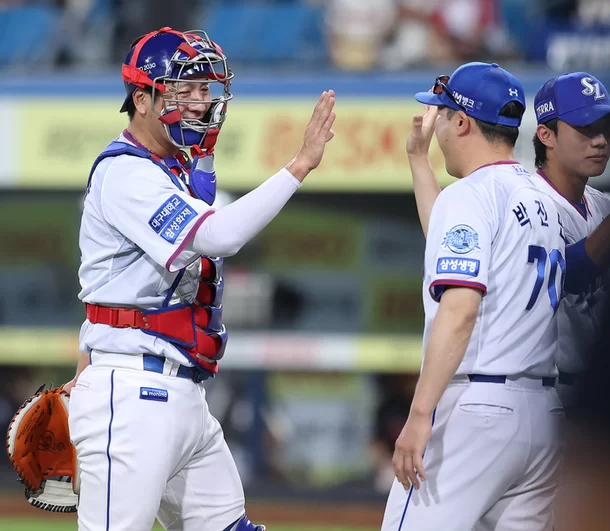 Samsung head coach Park Jin-man shares his thoughts on the team's back-to-back wins over top-ranked LG.
Samsung won 4-2 against LG in Daegu on Sunday. Starting pitcher Baek Jung-hyun earned his seventh win of the season with 6.2 innings of one-run ball. After Baek, Woo Kyu-min, Kim Tae-hoon, and Oh Seung-hwan pitched side-by-side to complete the win. Oh Seung-hwan pitched a scoreless ninth inning to earn his 19th save of the season.
At the plate, Koo went a perfect 4-for-4 with a home run and three RBIs. She raised her season batting average to .341 to take sole possession of first place in the batting order. With 101 hits, Koo has reached triple digits in hits for the ninth straight year. Ryu Ji-hyeok also went 3-for-3 with three doubles. It was the first time in his career that Ryu had three stolen bases in a game. Kim Sung-yoon also had a two-hit multi-hit game, including a bunt single.
With the win, Samsung improved to 43 wins, 59 losses and one tie on the season. They swept a three-game home series against LG from April 4 to 6 and took the series 2-1.
After the game, Park said, "Baek Jeong-hyun pitched a perfect game for the team despite it being his first start in four days, and the bullpen did their part to secure the victory."
"Koo's home run was the turning point in the game. "I can't help but talk about Ryu Ji-hyuk, but in a nutshell, he is a role model player who shows 토토사이트 that this is how baseball is played," he said.
In addition to his three hits and three stolen bases, Baek also praised Jung-hyun Baek's double play at first base to catch a runner, and Ryu Ji-hyuk's solid defense at first and second base.
Samsung announced Widener as the starting pitcher against KIA in Daegu on April 18. Rookie Yoon Young-cheol will start for KIA.