[Asian Games] It was a Single Team… North Korean Judoka Kim Cheol-gwang Refuses to Shake Hands with South Korea's Kang Heon-cheol
Kim Cheol-gwang and Kang Heon-cheol turned around coldly and left after defeating him,
saying, "I did well in every international competition."
Observations due to the situation between North and South Korea
The frozen situation on the Korean Peninsula is also on full display at the 2022 Hangzhou Asian Games. 스포츠토토
Kim Cheol-gwang
Kim Cheol-gwang (27), a member of the North Korean judo team who previously played with South Korean athletes as a member of the inter-Korean unified team,
refused to shake hands and turned away after winning a match with a South Korean athlete on the 25th.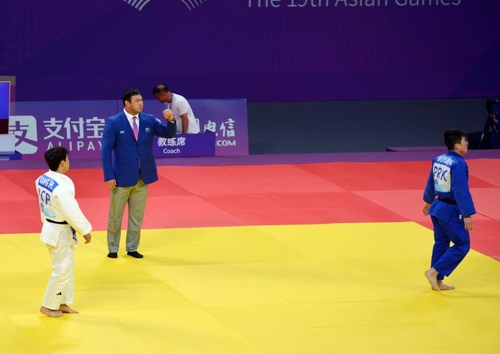 On this day, Cheol-gwang Kim competed in a 'North-South confrontation' with Heon-cheol Kang (Yongin City Hall) of the Korean national team in the round of 16 of the men's 73kg weight class in judo at the Hangzhou Asian Games held at the Xiaoshan Linfu Gymnasium in Hangzhou, Zhejiang, China.
Kang Heon-cheol took the advantageous position first by stealing one map (foul) at 3 minutes and 26 seconds.
However, Kang Heon-cheol lost to Kim Cheol-gwang in a close match just before the end of regular time.
Kang Heon-cheol, who was eliminated, approached Kim Cheol-gwang with his hand out immediately after the referee declared victory.
Judo
However, Kim Cheol-gwang turned around and walked out of the court.
In judo, two athletes shake hands, bow to each other, bow, and leave.
It is a characteristic of the sport of Judo that places importance on courtesy and norms.
Usually, the winner approaches the opponent first and encourages him rather than the loser.
However, the winner, Kim Cheol-gwang,
coldly refused Kang Heon-cheol's greetings.
It is even more unfortunate because the player who refused to shake hands was Kim Cheol-gwang,
who had shown close relationships with Korean players.
On the website of the Korean Judo Association, a group photo taken by Kim Cheol-gwang with a bright smile on his face with Korean athletes wearing the Korean Peninsula flag decorates the main screen.
Kim Cheol-gwang's refusal to shake hands does not appear to have occurred at the team level.